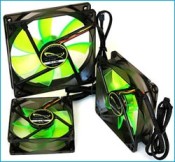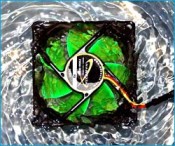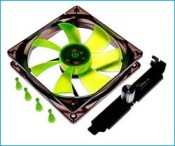 Nanoxia FX series of cooling fans are made by nanotechnology components for incredible durability and extreme efficiency. Industrial-grade components, optimized electronics and aerodynamics design, state-of-the-art manufacturing plant, and strictest quality and optimization control all make Nanoxia FX series of fans THE selection for serious industrial applications and high-end PC enthusiasts.
The heart of this incredible performance is at the bearing made from the nanotechnology composite material. It was specially developed for industrial applications that required efficient operation under extreme elements. The nano-technology material and construction prevent the intrusion of foreign substances and our fans can perform perfectly even in dusty surroundings or underwater because the bearing needs no lubricant and there is neither abrasion nor contamination in the bearing housing. Your products can now go the extra mile and all your customers will thank you for that. Lot more product ideas can now turn into actual products by utilizing these fans. And you sure will be glad to know that these fans carry a amazing 10-year manufacturer warranty. So come and try this future technology and you'll be glad you did!

Nanoxia FX series features:
10 years of manufacturer warranty
150,000 hours of service life
Nano Bearing technology
ECO traction

Hi-Tech material Bayer Makrolon® fans and frame

Low noise with remarkable airflow

Sleeved cable wire

Dust-proof and water-proof
Retail package contents:
1 x Nanoxia FX fan
1 x Nanoxia FCX fan controller
4 x Nanoxia Vibekiller Bolts
Bulk package may be available upon request but lead time is needed.
FX08-
1600

FX08
-2200

FX08
-3000

FX09
-1400

FX09-2200

FX12
-1250

FX12
-2000

Size
(mm)

80x80
x25

80x80
x25

80x80
x25

92x92
x25

92x92
x25

120x120
x25

120x120
x25

1600

2200

3000

1400

2200

1250

2000

19.4

32.45

45.75

25.31

39.89

47.39

79.14

Noise dBA

9

18

27

13

23

17

33

32.5

54.35

79.52

43

67.77

80.52

134.46

mm H²O

1.21

1.39

3.21

1.11

1.57

1.53

2.97

Voltage

4 - 13

Amperage

0.05

0.08

0.23

0.05

0.16

0.1

0.28

Wattage

0.6

0.96

2.76

0.6

1.92

1.2

2.36

MTBF (Hours)

150K

150K

150K

150K

150K

150K

150K

60

60

60

60

60

60

60
Nano Technology Bearings
The essence of Nanoxia FX series of cooling fans is the nano technology bearing. The use of special nano technology material allows the fabrication of solid fan bearings with minimal abrasion, sporting a service life of more than 150,000 hours. Because of its special surface treatment, the Nanoxia nano technology bearing needs neither greasing nor oiling, and it's impervious to environmental hazards like water, dust or sand. Any foreign matter bigger than a nanometer across cannot penetrate and damage the bearing.
ECO Traction
The ECO traction allows for a much smoother start-up and a better conversion of electric energy into kinetic energy, making the Nanoxia fan motors even more efficient. The ECO traction thus makes that much contribution to a better and more efficient "Green PC".
Makrolon® Frames and Blades
The Nanoxia fans' frames and blades are manufactured using the high tech polycarbonate Makrolon® by Bayer Material Science. This material, tried and tested for decades, allows the fabrication of extremely light, almost unbreakable and solid components.
Balanced rotors
It is vital for the smooth and steady movement of a fan that the rotor and fan blades are as balanced as possible. Tu guarantee a long service life, it is vital to trim the lateral movement through weights in the frame. With the help of state-of-the-art computer technology, Nanoxia rotors are perfectly balanced and certificated for a tolerance of less than 0.2mm.
Vibekiller bolts
Nanoxia developed the Vibekiller Bolts for the sole purpose of reducing the transfer of fan vibration to the computer case. The Vibekiller bolts can be included with every Nanoxia-FX and FX+ fans, but also available seperately.